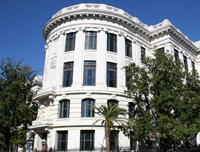 The Firm's practice is specialized to the uniqueness of the Lake Charles and Calcasieu Parish court system, and provides sound counsel to its clients on many levels.


Divorce: A divorce must be handled by a court of law, as a legal action is needed to dissolve the prior legal act of marriage. The terms of the divorce are also determined by the court, though they may take into account prenuptial agreements, or simply ratify terms that the spouses have agreed on privately. Often, however, the spouses disagree about the terms of the divorce, which can lead to much stress and litigation. The lawyers at Edward Bauman, APLC, understand this and will help make this painful process as easy as possible.


Personal Injury: A personal injury occurs when a person has suffered some form of injury, either physical or psychological, as the result of an accident. The most common type of personal injury claims are road traffic accidents, accidents at work, highway tripping accidents, assault claims, accidents in the home, and holiday accidents. Indeed, there are a multitude of types of accident and the term personal injury also incorporates medical and dental accidents (which lead to numerous medical and dental negligence claims every year) and conditions which are often classified as industrial disease cases. Industrial disease type cases include asbestosis and mesothelioma, chest diseases (e.g. emphysema, pneumoconiosis, silicosis, chronic bronchitis, asthma, chronic obstructive pulmonary disease, and chronic obstructive airways disease), occupational deafness, occupational stress, and repetitive strain injury cases.


Bankruptcy: An individual who is badly in debt can file for bankruptcy either under Chapter 7 (liquidation, or straight bankruptcy) or under Chapter 13 (reorganization). The choice of appropriate chapter depends on the situation. The debtor's disposable income and the type of relief sought plays a tremendous role in the choice of chapters. In some cases the debtor simply cannot file under Chapter 13, as he or she lacks the disposable income necessary to fund a viable Chapter 13 plan.


Criminal Law: Criminal law is intended to enforce social control by discouraging behavior that is harmful to societal well-being, as well as behavior that challenges the government's authority and legitimacy. Criminal law and punishments are designed to serve as a deterrent, helping to restrain behavior. While some crimes (malum prohibitum) are outlawed nearly universally, such as murder and rape, other crimes (malum prohibitum) reflect society's social attitudes and morality, such as laws prohibiting use of marijuana. Criminal law establishes procedure for punishing offenders, with punishment handled by the state and not the victim who might otherwise seek revenge.